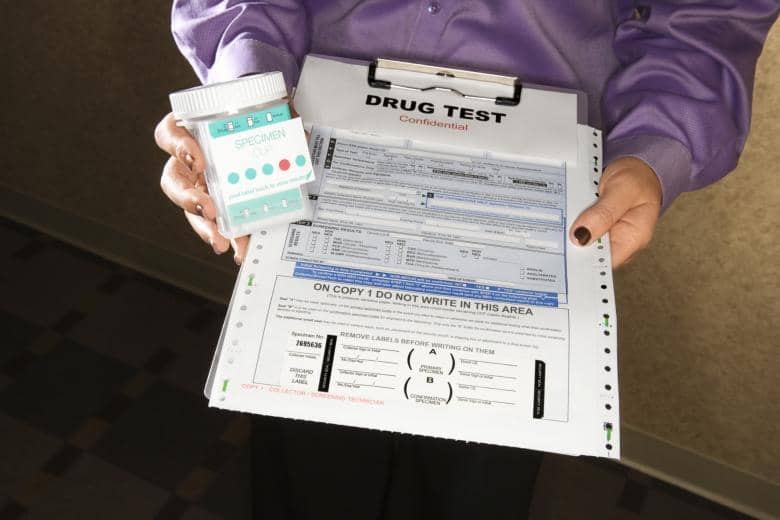 Do drug tests for welfare recipients save money or have any positive effects on society? Most of the data published has echoed the sentiments of the organization that published it. It's not easy to quantify the success of these programs because the number of welfare applicants change as the economy improves and declines.
In a study conducted and touted by Think Progress they found that only 1% out of the 263,000 applicants that could have been subjected to drug testing were rejected. Think Progress is a liberal organization that sets out to oppose drug testing for welfare recipients.
Their claim is somewhat misleading; the 263,000 number is included in almost every mention of the study but it doesn't have a whole lot to do with the results. Also states enacting drug testing expect it to deter applicants that wouldn't be able to pass a screening.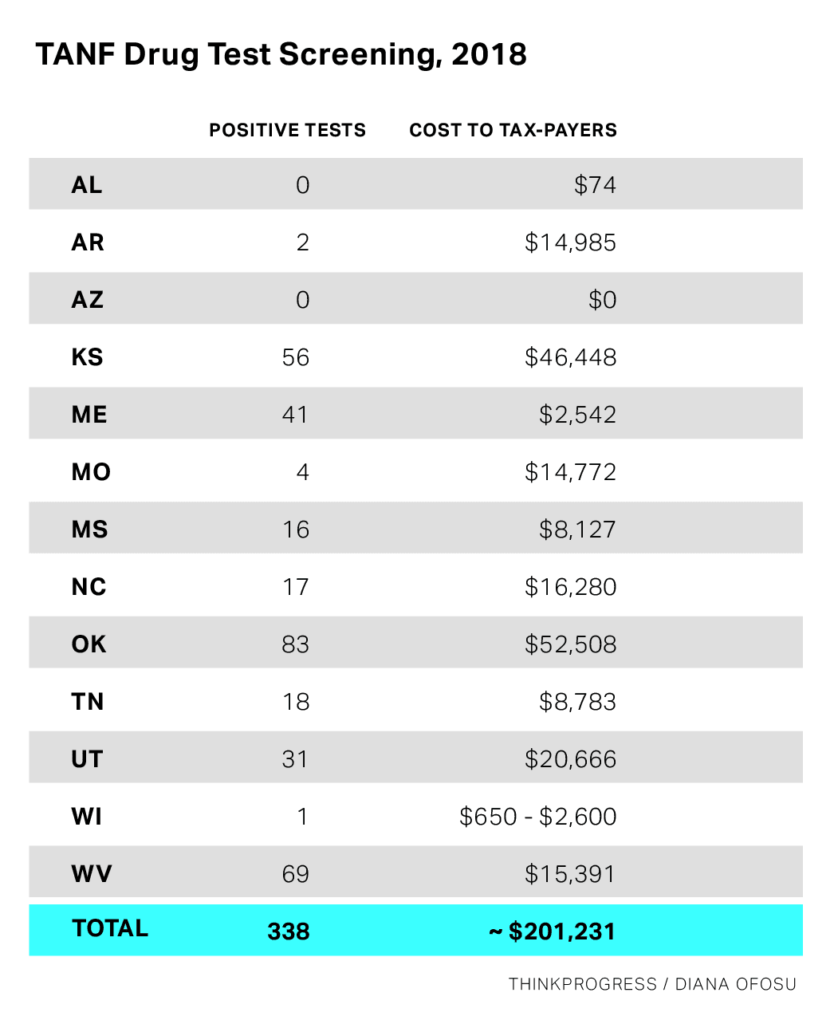 For example Utah spent $30,000 in 2013 on their drug tests for welfare program, but only 12 people tested positive. 250 others did not meet testing requirements however and Governor Brad Wilson stated that denying benefits to those people alone saved the state $350,000. Brad Wilson has a vested interested in the success of the program because he promoted it.
It would be hard to calculate the number of people that did not apply because they knew they had a drug habit and did not want to subject themselves to testing.
In another instance of organizations pushing their agendas the Florida Civil Liberties union found that Florida's welfare drug testing program cost the state $45,000 more in testing than it saved in welfare payments. After a Florida judged blocked the bill and made the state pay out benefits retroactively the conservative Foundation for Government Accountability showed that costs grew quickly which suggests that the law was saving money.
Arguments for Drug Testing
There have been several arguments made for mandatory drug tests for welfare recipients. The primary motivation for voters is that they believe their tax money should not be given out in entitlements that subsidize behavior they disapprove of.
Some of the primary goals of welfare drug test programs are
Referring people that test positive to treatment
incentivizing recipients to abstain from drug use
reduce spending on welfare
identifying custodians of minors that use drugs
denying benefits to people that would subsidize their drug habit with them
Proponents point out that most employers drug test their employees and think that it isn't fair that welfare recipients do not work and aren't subjected to the same scrutiny.
Arguments Against Drug Testing
The primary arguments against drug testing recipients are
The cost outweighs the savings
drug addicts on welfare are deterred from seeking treatment
such laws unfairly target poor and minority citizens
it's a violation of the 4th amendment
32 proposed bills focused on drug tests for welfare recipients in 2009 and 2010 but none of them made it to a legislative vote because they mostly focused on testing every applicant as a requirement for receiving benefits.
A 2003 court of appeals case Marchwinski v. Howard found that subjecting every welfare recipient to drug testing with no reasonable suspicion was unconstitutional. However the federal government does require any employee that works for a company that competes for federal contracts to be subjected to random drug testing under the Drug Free Workplace Act.
Opponents of these laws say that the premise itself is discriminatory because it suggests that welfare recipients are more likely to use drugs. In the vein of the Drug Free Workplace Act you could look at it as anyone that accepts federal or state funds is subject to higher scrutiny.
Public Sentiment
Public sentiment is divided about drug testing welfare recipients, but it's not divided along party lines as much as other mainstream topics of political discussion.
Since we could not find a published study that didn't seem to have a political bias at its core we decided to do our own survey about the public's opinion on drug testing welfare applicants and recipients.
In a study we conducted of 400 random Kentucky residents 183 said they did not support drug testing welfare applicants, 116 said they did support drug testing welfare applicants, and 101 had a mixed opinion and did not definitively choose. I expected the results to be closer to an even split, but it was clear that overall the majority of the public doesn't clearly support welfare drug testing legislation.
We hoped that the participants would correspond to political affiliation and income levels nationally, but we had a higher level of lower income individuals.
A surprising aspect is that the group that most likely supported drug testing welfare recipients were recovering drug addicts. There was also a level of bi-partisan support on the basis of "if I have to be drug tested to work my job they should be drug tested to receive my taxes".
| Sentiment | Number of Votes |
| --- | --- |
| No | 183 (46%) |
| Yes | 116 (29%) |
| Unclear | 101 (25%) |
Some of the reasoning we received from people surveyed was very interesting. Here is a sample of some of the more interesting remarks.
No Voters

"I'm a hater of government assistance but I still don't see any fairness in requiring drug tests for benefits. We don't drug test business owners that get tax breaks or subsidies." – M.B.

"A lot of these same folks would end up homeless, clogging the streets, increasing crime, and cost even more money long term. What's the better alternative?" -M.G.

"No. It's become increasingly difficult to even get benefits as it is. Single adults without kids must have a job or do community service to even receive SNAP now. Someone with no job that just wants to get free assistance won't get anything anyway." – C.M.

"Nope. If they start testing then all government (state and federal) employees should be tested as well." -J.C.

Yes Voters

"I'm tested every time I start a new job and am subject to random testing. It's a requirement for my paycheck, why should it be any different when it comes to using my taxes for people on welfare. I'm certainly not against welfare, and am a firm believer that it's a good thing when used as it was intended." – J.P.

"Yes cause odds are if the parents are on drugs they are trading food stamps for money to get drugs so children aren't getting the food they need anyway and children should go to someone else that will feed and take care of them properly." -C.R.

"I think yes! People are saying children are involved and will go without food, but so would the children of parents loses their job due to a failed drug test. People on drugs get way too many free passes and handouts yet not getting any real help offered to them, like rehab, counseling." – S.J.

Unclear Voters

"There's good and bad in it. We get tested to work so they should get tested to draw. At the same time what do we do with the people getting cut that become homeless? What about the children who were barely eating before? They should be tested, but we need a plan to negate the negatives before it can be considered." – M.J.

"Hard question because the kids gotta eat it isn't their fault. But who's to say the parents use the welfare for food?" – K.J.

"If they get tested, they would have to test levels. Because even if they get prescribed the medicine they can still abuse it." – K.J.
Welfare Drug Testing Laws by State
Alabama – 2014 passed a law that requires welfare recipients with a drug conviction in the last 5 years to submit to drug testing.
Arkansas – 2017 Arkansas passed SB 123 making their drug testing program permanent.
Florida – 2011 passed a law HB 353 requiring all applicants for TANF benefits to be tested. Florida courts struck down the law as unconstitutional.
Georgia – 2012 passed legislation requiring drug tests for all applicants for Temporary Assistance for Needy Families.
Kansas – 2013, Kansas enacted legislation to require drug testing for applicants and recipients suspected of using controlled substances.
Maine – 2015 passed a law requiring welfare recipients that had a prior drug conviction to submit to drug testing.
Michigan – Governor Rick Snyder signed HB 4118 and SB 275 into law on December 24, 2014. The bills require the Department of Human Services to establish and administer a suspicion-based drug screening and testing program in at least three counties.
Missouri – 2011 passed HB 73 requiring the department to require a urine drug test for all applicants and recipients of TANF for whom they have reasonable cause to believe based on screening that they are engaged in illegal use.
Mississippi – 2014 Governor Phil Bryant signed HB 49 into law on March 24, 2014. The bill requires all applicants for Temporary Assistance for Needy Families (TANF) to complete a written questionnaire to determine the likelihood of a substance abuse problem. If the results indicate a likelihood the person has a substance abuse problem, the applicant must submit to a drug test.
North Carolina – 2013 passed HB 392 which included a provision to require drug testing of welfare applicants or recipients based on reasonable suspicion.
Oklahoma – 2012 passed HB 2388 requiring DHS to screen all adult applicants for Temporary Assistance for Needy Families (TANF) to determine if they are engaged in illegal use of controlled substances.
Tennessee – 2012 approved a bill to require the department to develop a plan for substance abuse testing for all applicants.
Utah – 2012, passed HB 155 requiring individuals applying for cash assistance to complete a written questionnaire screening for illegal drug use. If there is reason to believe the person has a substance use disorder or is engaging in illegal drug activity, the applicant must take a drug test.
Wisconsin – 2015 budget bill (SB 21) included a provision to drug test individuals participating in the Wisconsin Works and the Transform Milwaukee Jobs program and work experience programs for non-custodial parents. The bill also included a provision to test applicants for the Supplemental Nutrition Assistance Program which was challenged by the Federal government.
West Virginia – 2016 Governor Tomblin signed SB 6 on March 23, 2016, which creates a 3-year pilot program to screen welfare applicants for substance abuse issues. If the caseworker has reason to believe the applicant is abusing drugs, a drug test will be ordered.