Description
Our 10 panel saliva drug test, the T-Square tests for:
(THC) Marijuana
(COC) Cocaine
(OPI) Opiates
(AMP) Amphetamine
(MET) Methamphetamine
(BAR) Barbiturates
(MDMA) Ecstasy
(MTD) Methadone
(OXY) Oxycodone
(PCP) PCP
Oral fluid drug tests are simple to use and eliminate the need for urine specimen collection required for urine drug screens, which is ideal for employment settings. You will no longer need to worry about cross gender observation, handling urine cups, or the threat of drug test adulteration.
Our newest version of the T-Square comes with an indicator that alerts the technician when enough saliva has been captured by the swab.
Our 10 Panel Saliva Test features an indicator located on the swab that alerts users when enough saliva has been collected. No more wasted tests.
10 Panel Saliva Drug Test Instructions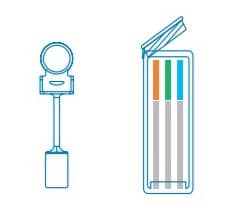 Step 1: Remove the test cube and the sponge collector from the foil pouch by tearing at the notch. Place the test cube upright on a level surface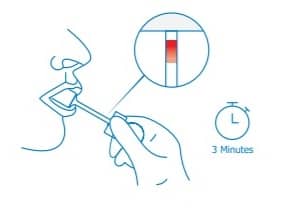 Step 2: Put the sponge end of the collector on your tongue to collect oral fluid for about 7 minutes or 3 minutes if using the saturation indicator, until the color on saturation indicator strip appears RED in the indicator window.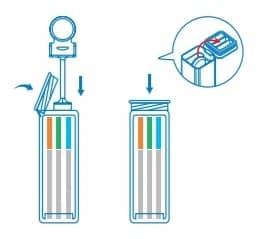 Step 3: Open the test cube and place the fully saturated sponge collector inside the test cube. Press the sponge collector down firmly until it reaches the bottom of the test cube, then close the cube lid tightly while compressing the collector. Keep test cube upright on a flat surface and follow Step 4.
Note: Make sure the sponge collector is inserted vertically and the handle of collector is put into the clamp.