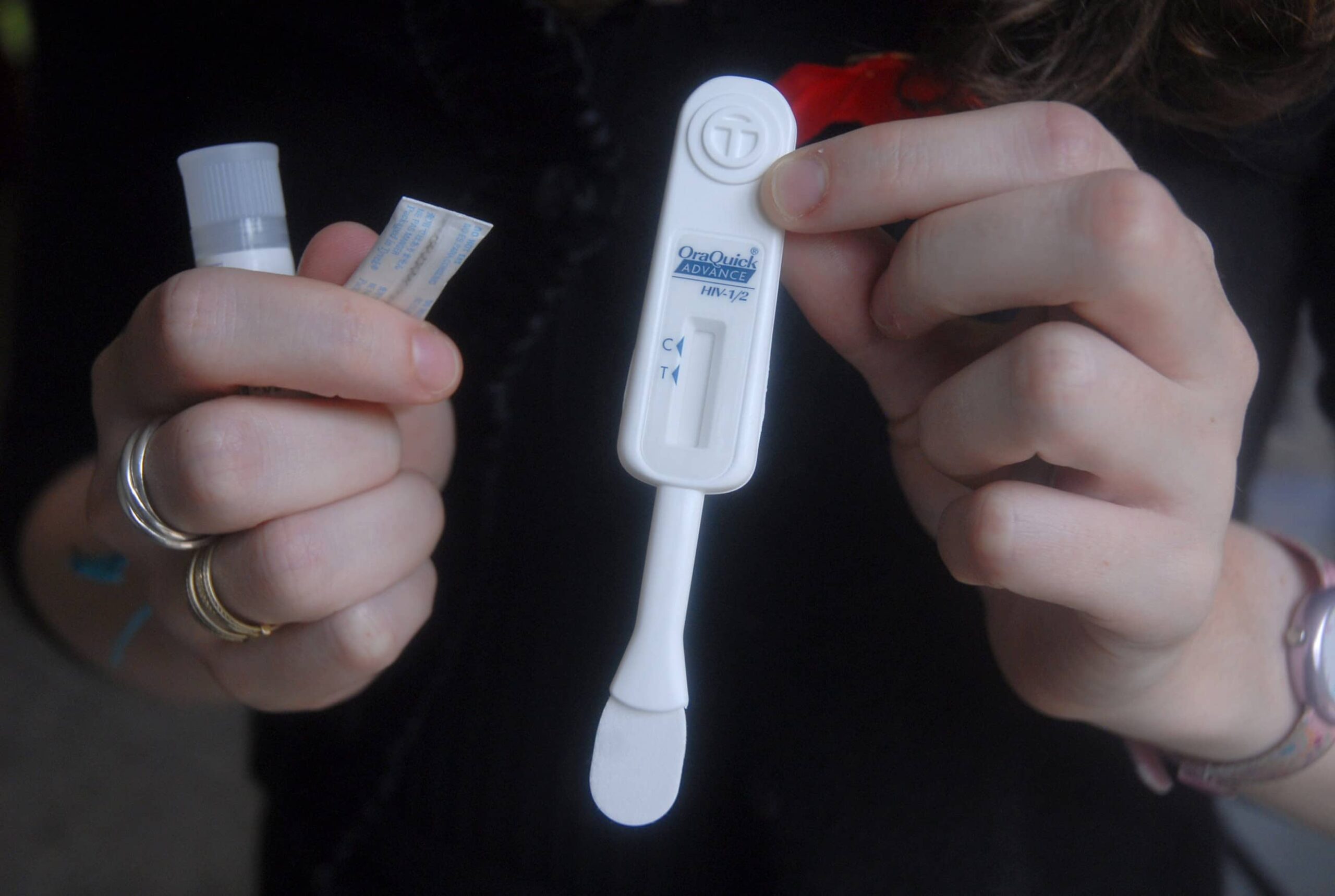 At home drug tests detect the presence of illicit substances in urine and saliva samples, and are optimized for ease of use. Testing at home is an accurate and cost effective alternative to laboratory drug tests. Drug tests marketed for personal use have clear labeling, are offered in individual quantities, and are often CLIA waived.
What Are At Home Drug Tests?
At home drug tests are generally used for detecting illicit drug use by family members. They are also quantitative, meaning that the result is pass or fail. It does not provide the exact quantity of drugs. Medical professionals often use the same tests to get quick results, and will have further lab testing completed on the sample.
At home drug testing is an important countermeasure parents can use to help protect their children from drug use. Over two million teens aged 12-17, approximately 8%, admitted to using drugs in the past month. In 2020, 4,777 Americans aged 15 to 24 years old died of an overdose.
Personal use drug tests can test for one or multiple substances. Larger companies often design packaging and devices targeted at consumers. This can raise costs substantially. The actual test is a thin strip that contains a regent. The regent interacts with the biomarker, either the drug itself or a metabolite that is produced by the drug's breakdown in the liver.
The most common types of at home drug tests are urine drug screens and oral saliva drug screens. Urine drug tests are more accurate, but can be adulterated if the person taking the test isn't observed. Many people have an aversion to handling urine samples as well. An oral test is not as accurate, can be hard to administer correctly, but avoids the taboo of handling urine.
What Are The Best At Home Drug Tests?
People enjoy the ease of picking up medical products from Walgreens, but the actual tests are over priced when you buy a single panel test from a big box store. Ordering online from a company like Drug Test City is discreet, convenient, and fast. An order will usually arrive within 3 business days.
Best Urine Drug Test
The best at home urine drug test is a CLIA waived 12 panel drug test cup that is approved by the FDA. It offers multiple drug screens in a convenient collection container. The 12 panel represents the best value because there is a competitive market for 12 panel cups for industry and medical use. Manufacturers produce them in higher numbers, so they have a lower manufacturing cost. Some companies charge $10-$20 for a single panel marijuana test. You can purchase an individual 12 panel cup for about $6, and as low as $3 if you purchase 25 or more. We recommend urine tests for at home use because of their superior accuracy and ease of use. A CLIA waiver means that the manufacturer designed the test to be simple enough that it doesn't require a lab technician to interpret the results.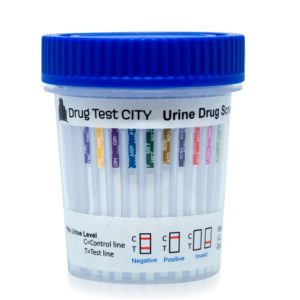 Best Saliva Drug Test
The best at home saliva drug test is currently the 12 panel T-square. It tests for 2 additional drugs over a 10 panel test, is convenient to use, and features a sample indicator. You can purchase a single 12 panel saliva test for about $6, or as low as $5 if you purchase a box of 25. These tests are for forensic use only because they are a little more difficult to use correctly and saliva is an inferior sample type. They are popular with employers because they are non-invasive.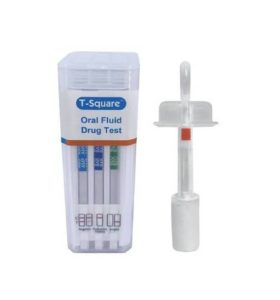 What Drugs Do At Home Drug Tests Test For?
At home drug tests can test for a single drug, or up to 14 different drugs. Our 14 panel drug test cup, which is for forensic use, tests for
Marijuana (THC) 50 ng/mL
Cocaine (COC) 300 ng/mL
Opiates (OPI) 2000 ng/mL
Amphetamines (AMP) 1000 ng/mL
Methamphetamines (MET) 1000 ng/mL
Benzodiazepines (BZO) 300 ng/mL
Ecstasy (MDMA) 500 ng/mL
Methadone (MTD) 300 ng/mL
Oxycodone (OXY) 100 ng/mL
Buprenorphine (BUP) 10 ng/mL
Barbituates (BAR) 300 ng/mL
Tricyclic Antidepressants (TRA) 200 ng/mL
Fentanyl (FYL) 10 ng/ml
Alcohol (ETG) 500 ng/ml
A comprehensive multi-drug test is ideal. An opiate test does not detect oxycodone, a popular pharmaceutical drug that is widely abused. Also, drug users that use heroin are more often than not using fentanyl. Because of fentanyl's potency, it takes a very sensitive test to detect in urine. For this reason, fentanyl tests are not currently CLIA waived, so no multi-test that contains them is CLIA waived.
Pros and Cons of At Home Drug Testing
Pros
There are several advantages to drug testing in the privacy of your own home compared to an on-site drug test.
Cost effective: An at home drug test is 90% cheaper than a full lab panel.
Fast: You can view results in less than 5 minutes.
Non-invasive: Users do not have to be observed or adhere to lab protocols.
Cons
Lab tests are qualitative, meaning they give levels of each drug in part of their results.
Oral tests are not as user friendly. We developed a swab indicator to help alleviate this.
Observation is recommended because subjects are known to substitute samples.
All drug test kits are susceptible to malfunction. Because of thehe delicate nature of producing thousands of regent strips and combining them with a collection container, some tests will not be accurate. Drug tests need to be stored properly in a climate controlled environment and used prior to their expiration date.
Tips for Drug Testing At Home
Modern drug tests are user friendly, sanitary, and accurate.
Always observe the drug test. If you don't see the urine coming out, there is a possibility that the subject could switch the sample.
Check for color. Users are known to dilute their urine prior to testing, which affects results. Use samples no lighter than a straw color.
Read the instructions carefully. Everything from how much of a sample is required to how long to wait for results should be covered.
Faint lines on a drug test are still negative results, and they do not indicate that there is a low level of drug in the urine.
Always make sure that the drugs you need to test for are included in the test. If someone abuses opiates, you need a test for opiates, oxycodone, fentanyl and methadone. We suggest using a drug test that is approved for use in the United States by the FDA. You can search the over-the-counter FDA database and the CLIA database for approved manufacturers.
The most common factors in getting inaccurate results is human error and adulteration. Follow the instructions closely and be alert to possible adulteration attempts.
Frequently Asked Questions About Drug Testing At Home
What types of drugs can be tested for at home?
Many at-home drug tests can screen for a variety of substances, including marijuana, cocaine, opiates (like heroin, morphine, and codeine), methamphetamines, ecstasy, amphetamines, and some prescription drugs like oxycodone and Xanax. The substances that can be detected will depend on the specific drug test.
How accurate are at-home drug tests?
At-home drug tests are 99% accurate and can be a useful tool for preliminary screening. However, factors like the timing, the type of sample used, and the specific drug being tested for can affect results. False positives and false negatives can occur, but are rare.
How long after drug use can a test detect substances?
The detection window for drugs can vary based on the substance and the individual's metabolism, frequency of use, and other factors. For a full list of detection times, check out What's on a 12 Panel Drug Test.
Can other medications or certain foods cause a false positive?
Some substances, including certain foods and medications, can potentially lead to a false positive. It's important to consider any substances you've consumed prior to taking the test. Consult with a healthcare professional if you're concerned about potential interactions and always keep a list of your medications for reference.
What should I do if I get a positive result on an at-home drug test?
A positive result on a point-of-care drug test is a preliminary indication of drug use and should be confirmed with a laboratory test. If you or someone else tests positive on a home drug test, consider consulting a substance abuse counselor for further advice.